Blogging has evolved to be one of the most lucrative investments people make today. Apart from the fact that people share useful information, news, reviews etc, it has also become a major source of income for most people who take it seriously.
Do you want to open a blog or want to improve your blogging skills? Then this post – "7 Blogging tips every Entrepreneur should know" is for you. It doesn't matter whether you are starting up or don't know anything about blogging. The most important thing is your desire to blog.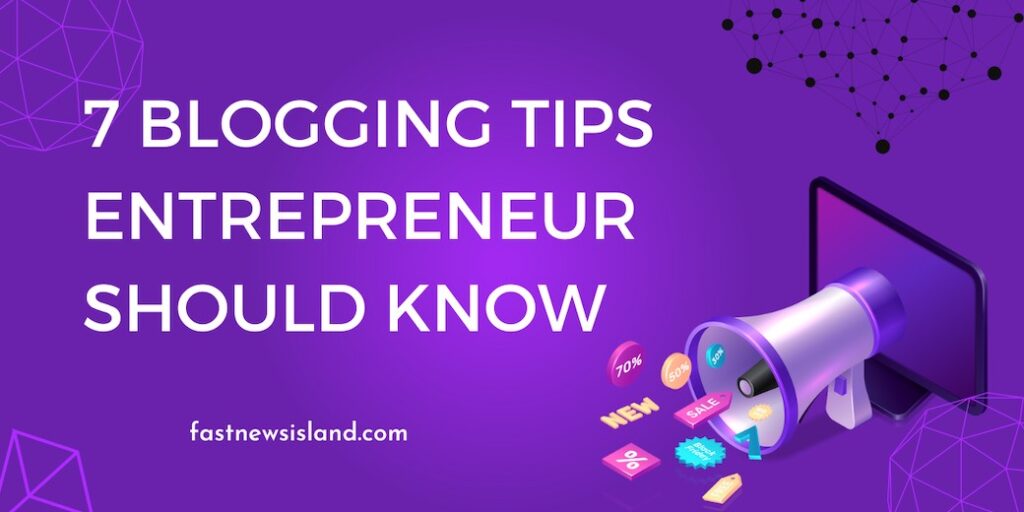 In case you are still having a mental block about how blogging works. I think it's of no use for you to read this post because you will never comprehend any of the blogging tips that will be discussed.
First thing first. Deal with any mental block you have such as –
I don't have money: Money shouldn't be your problem. When once you have the passion, money will surface.
I don't know how to write: The truth is everything can be learned. Most of the people that started didn't know how to write but along the line they developed it.
I don't have design skills: You must not do everything all alone. There are still people out there that can do that for you.
In fact, you have no excuse.
 Yes! You have a long way to go. No matter how competitive your industry or niche is, you can still make headway. It took people like Linda Ikeji of www.lindaikejisblog.com, Pat Flynn of smartpassiveincome.com and Derek Halpern of socialtriggers.com up to 5 years to make their blog a world-class. So don't be afraid.
But don't allow anybody to deceive you into believing that blogging is easy just to make you buy their eBooks. These people will tell you that they made $1000 dollars in a week which is not possible for a newbie blogger.
Let's go to the memory lane. Since you have gotten the passion to blog, this article will teach you 7 blogging tips every online entrepreneur should know. Not just to know them, but also to apply them to skyrocket your blogging career.
 Treat Blogging as a business
Take a look at the most successful bloggers in the world; you can discover that all of them took blogging as a business. Don't start blogging just for fun or for pride.
I will stress on two important things to make blogging a business
Business Plan: The start of anything is very important. Launching a blog requires you to have a clear vision of what you want to achieve written down. In this business plan, you map out –
Your blogging goals.

Your niche; which should be on demand. Don't go for a niche that you have less or no knowledge about. Because if you do, you will one day run out of topics which may eventually reduce your blog quality.

Your domain name; which can be remembered and shouldn't be too long.

Your host.

Your target audience.

How people will find your blog?
Investment: You have two options to choose – 
FREE BLOG vs. SELF-HOSTED BLOG
If you want to go for a free blogging platform, you have no problem. Just bear in mind that it won't be professional. Imagine when visitors see .blogspot.com or .wordpress.com or .tumblr.com, they won't value your blog and the information in it.
A Self-Hosted blog is the best option you should go for. This gives you authority over your blog. The truth is, people value what they pay for than what is given for free. Pay for a domain and a hosting package and you will value your blog.
Domain name is not more than $12 in a year. I recommend Namecheap or Godaddy if you've made your decision.
Hosting plan is not more than $4 per month. You can go for Siteground, Bluehost or Hostgator.
 Blogging is not a "get rich quick" Scheme
This is one of the most valuable pieces of advice I give to people. If you start blogging today and you expect to make $1000 in the next one month, you will finally be frustrated. You have to give that blog time to grow. Don't start blogging with a money mindset. Blog because you want to build a brand for yourself and make an impact on the internet.
 Quality content is what people need
People are looking for information that can solve their problems. Imagine when a visitor comes to your blog and there is not much content, they will never come back.
Provide quality content not plagiarized content. Don't copy other people's work, rather be yourself.
Your content should be genuine and should be able to convince visitors to take action.
 Promotion is a major way to build traffic
Most bloggers think that the moment they hit the publish button is when they start getting traffic which is never true. You start getting traffic when you start promoting your content.
Using social media is always a powerful tool to get traffic to your blog. Create a page for your blog on all social media and reach out to people.
Have you tried Email marketing? If not then you are really missing out. Millions of people check their mail every day. A good blogger should be able to convert visitors into subscribers.
 Search Engine needs an optimized site
SEO can be explained to be a marketing strategy aimed at getting visibility on search engine results. One of the methods of reaching out to people is through search engines. More than 3m people search for information on Google in a second. For your blog posts to be visible to search engines, they must be optimized. This can be done through these methods:
Do keyword research.

Use catchy Headlines.

Write long posts.

Optimize your content and images.

Make your blog mobile-ready. Visitors should be able to access your site with mobile phones.

Your blog must be easy to navigate.

 Blogging needs consistency
This popular saying is true and has worked for many bloggers
"10 times a day is better than once in a month"
How will your visitors feel when they visit your blog and they found no new thing that can help them? They will probably stop coming and by such, you will lose traffic.
Post regularly and see how your traffic will grow. Although this may depend on your niche. But try as much as possible to update your blog. Bloggers like Linda Ikeji post up to 30 times a day. If you are not a news blogger, once a day can work like magic.
 Learn what others are doing to grow their blog – Blogging tips
Don't be behind when others are moving forward. New business ideas emanate every day. What are others doing to grow their blog?
They create eBooks and give it away in exchange for subscription to their email list.

They create podcasts as a way of reaching to more audience both online and offline.

They interview other people and post on their blog.

They do webinars.

They create online courses which are profitable
Bringing it all together
There are lots of things to learn. As a blogger, you should be open to learning new ideas, and blogging tips that can help you in your blogging journey and other online business. And not just learning, TAKE ACTION.
About Author
Ikechukwu Anyaogu is a Digital Marketer, blogger, writer and Chief Editor at passionentrepreneurs.com and also the founder of Elevatals.com — A digital marketing Agency that helps B2B Brands build strong digital presence through digital marketing solutions.