Appenzell, located in Switzerland and roughly an hour and a half from Zurich, is pure charm. The area is best renowned for its making of Appenzeller cheese, but the tiny communities and villages that populate the region are worth exploring in their own terms. The same is true for the town named Appenzell Ausserrhoden in Switzerland. Here are the best 4 reasons to visit Appenzell Ausserrhoden in Switzerland.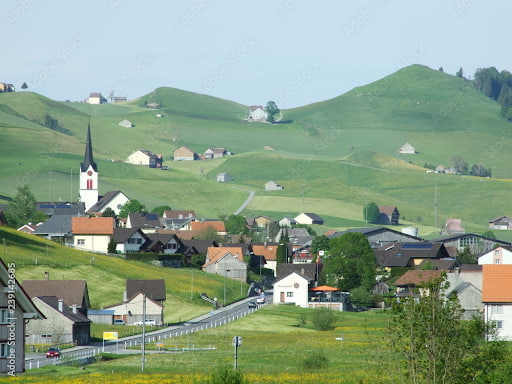 Enjoy the Gloomy and Good Vibes through Folk Music
Appenzell's gloomy vibe is sometimes blamed on the region's obsessive adherence to tradition, according to some foreigners. Appenzellstoeckli, a kind of folk music, also incorporates the prevailing spirit. Shepherds and farmers have been using yodelling to communicate across long distances and across difficult terrain for ages. To this day, speakers of Zauerli and Ruggusseli may be heard in Appenzell. Violins, dulcimer, cellos, and contrabasses play the music, which is also pretty eerie. The Appenzellers may be known for their melancholy, but that doesn't mean they can't enjoy a good, rowdy dance party.
Have a good time with locals and learn a lot
Staying in the village is the greatest way to get to know Appenzell. Happily, there are two charming hotels that serve as the backdrop for local dances and have beautiful settings and rich histories. The Hotel Hof Weissbach comes first. The Appenzell train station is conveniently close to this luxurious four-star hotel, which features a variety of amenities like a sauna, a fitness club, and an indoor pool. Through the nearby woods is a trail illuminated by lantern light that leads to the motel. On Wednesday nights, however, residents and visitors alike gather for an Appenzell Evening complete with traditional music and dance. Don't leave without trying any of the regional delicacies, such as the renowned cheese, red wine, or robust beer brewed in town.
In addition, there is Berggasthaus Aescher. An authentic mountain inn, or "Berggasthaus" as the Germans call it. The inn is carved into the side of a cliff and may be accessed through a gondola ride and a brief but difficult ascent. It was constructed around caverns in which hermits from the early 17th century resided, often in close proximity to wild bears. Famous for its cuisine, the Aescher also hosts folk music nights when guests may dance with natives to Appenzeller music.
Shop Leather Items and gifts for your friends and family
The town of Appenzell values its history and culture highly. If you want to see the work of a true master, you need to stop by Hampi Faessler's Atelier. The remarkable traditional leather belts, intricately inlaid with metal cut-outs of cows and even farmers, are only one of the numerous items he crafts. You may also get gorgeously painted furniture and other decorative things that will make your friends green with envy when you bring them home. They are also excellent presents.
You get to learn about Cheese
Appenzeller cheese has long had a strong reputation, especially in Switzerland itself. Dairy farmers in Stein are extremely dedicated to maintaining the integrity of their numerous secret recipes, including the one for the strongest Swiss cheese. Best to take a guided tour, where most, if not all, of the mysteries will be unveiled. You may try anything from young and low-fat to old and full-fat, and even manufacture your own over a copper pot. The final, fully developed product will be sent to you.
Try some of the local cured beef, mostbroeckli, at the butcher shop next door, and satisfy your sweet taste with some Appenzeller Biberli, a soft gingerbread filled with almond paste, at the bakery. You may experience many of Appenzell's most renowned dishes in a single vacation.
Strolling in Appenzell Ausserrhoden is worth having experience
Appenzell is a very small place, so it doesn't take long to walk along the main street and admire the great variety of painted facades. Like everything in Appenzell, this is a tradition that started many years ago with one house, the Kreuz. Then, the owner of the Raben got jealous and adorned his house, and so the competition went until you see the colourful place the town centre is today. Whilst you are walking along, visit the Appenzell Art Museum to see some local and contemporary art. You can also take a credit loan in Switzerland and build your property there.
Enjoy the new year's vibes
If at all possible, plan to spend New Year's Eve at Appenzell, where you may experience a really unique and unforgettable event that can't be seen anywhere else on Earth. Dairy farmers gather in the nearby village of Umasch, dressed in full with masks and costumes created from materials such as rags, twigs, roots, leaves, and grass. They make their way from one location to another in the snow by yodelling and rattling cowbells but not saying anything. Sylvester chlausen is the name given to the entire celebration, which has been traced all the way back to ancient paganism.
You can go for hiking in Appenzell Ausserrhoden
Appenzell Ausserrhoden has the best hiking trails in the entire world. However, these hiking destinations are full of risks as well. You will need to buy Health Insurance in Switzerland to be able to travel or hike in Switzerland. So, make sure to use TipTop – Health Insurance Comparison and PrimApp – Health Insurance comparison in Switzerland. Both TipTop and PrimApp are the most popular tool online for health insurance comparison. Comparison on Tiptop and PrimApp is easy and quick. Health insurances are costly in Switzerland. However, to get the right price and know which health insurance will be suitable in Appenzell Ausserrhoden for your needs, you can use a health insurance comparison tool.
Conclusion
In conclusion, don't go to Appenzell expecting to live like a king or queen. This excursion is designed to teach its visitors about the area's history, customs, and natural beauty. Know that the inhabitants, while welcoming, are shy and protective of their culture and customs.