India has 16 million freelancers and counting, making it only second to the USA in terms of the number of freelancers in the country.
Most freelancers from India work in the computer technology, telecommunication, and virtual service industries, though there are many in other industries too.
Freelancing has been a career choice for many Indians for a long time, and with the growth of freelance job portals such as Freelancer, Upwork, and Fiverr, Indian freelancers have enjoyed great success.
A big reason for Indians being favoured for projects is that the country has skilled resource persons at budget-friendly rates. For start-ups and MSMEs, it is difficult to afford qualified and skilled professionals. The foray of Indian freelancers has leveled market rates and enables businesses to get top-notch services at competitive rates.
The push from the government
The pandemic-related enforced lockdown has shaken the job market and there are cracks in the employment structure as more people prefer to work remotely and businesses are choosing freelancers for many roles.
The government also recognizes the freelance job market's perks, giving opportunities to women, differently abled persons, and many others who were excluded from the traditional job markets.
In his latest Mann ki Baat speech, Prime Minister Shri Narendra Modi Ji spoke of the importance of giving a push for remote and work-from-home roles.
Furthermore, there is an evident demand for Indian freelancers who are skilled professionals with sound educational qualifications and native-level fluency in the English language.
Freelancing Vs. Working Full-Time Remotely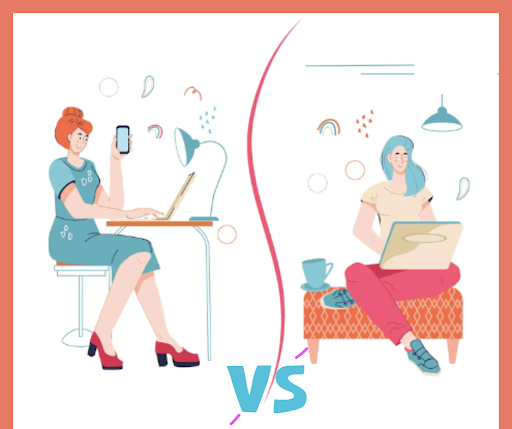 A necessary edge that freelancing gives businesses over full-time employees that work remotely is the cost advantage. Since freelancers are paid for the gig, the company's liability towards them is greatly limited.
Also, when the company does not require their services, they can choose to disengage until the period that they require them again. For instance, many digital marketing companies hire freelance content writers to deliver marketing content such as blogs and articles with keywords in bulk. 
These freelance writers are paid by the word and once the company has exhausted its stock of content, they re-engage the freelance writer to deliver the next batch of content.
There are many core activities within the company that can be done remotely by employees, which is the premise for many companies opting to go fully remote. 
For instance, the freelance job aggregator Truelancer operates 100% remotely, with their small team based all across the world. Many start-ups and smaller-sized IT companies with more than 200 employees are also operating remotely at various degrees. 
However, these companies only have full-time remote employees who are necessary for the team. Most temporary jobs are outsourced to freelancers.
For instance, an event management company requires a fully functioning website to market itself, however, it does not need a full-time software engineer. 
They can outsource the work for building and maintaining their website to a freelance web developer. The company may require regular services of a graphic designer, digital marketer, and content writer, but it may be more cost-effective for them to hire a freelancer for the same.
Hiring Freelancers In India
The top freelancers in India can be found on the leading freelance job portals in the country such as ZoopUp, UpWork, Freelancer.com, and Truelancer to name a few. Between these websites, one can hire a freelancer for all types of projects, in any industry, and for various roles. There are speciality websites where one can hire freelance professionals for specific domains. For instance, on Toptal, one can find highly qualified freelancers in select fields. 
LinkedIn and some of the other job portals such as Naukri.com and Monster.com also have opportunities for freelancers, but they advertise role-based opportunities more than project-based. So, if you are looking for a regular freelancer for your company, then these job sites may be the place to advertise.
Money matters
International payments are generally made via PayPal, which has made it easier to work with freelancers from India. Most freelance job sites have an efficient payment system that ensures that international and domestic payments alike are processed without too many processing charges or other additional costs. 
By law, they are also required to record the freelancer's PAN number, thus, ensuring a smooth tax declaration process.
Whether you are getting paid in Dollars, Rupees, or Pounds, the exchange rate is calculated as per the current market rate on the date when the project is completed and after the freelance job site takes its fee cut, the balance amount is transferred to the freelancer's bank account.
Mostly, freelancers add these overhead costs when they are charging their clients. However, the website gives offers to the clients which can offset the total costs. Also, as long as the amount charged by the freelancer falls within the scope of the allocated budget, the breakup does not matter.
It is a great time to do business with Indian freelancers, especially as globally the job market is undergoing massive shifts. 
Companies can take advantage of access to college-educated professionals with relevant experience, working at much lower rates, bringing down the overall project costs. Furthermore, these freelancers will deliver the project on time and with the utmost professionalism, ensuring a satisfactory experience overall.